Does anyone in the Chicagoland area remember the heat wave we had earlier this month? It's likely that there are more to come, which will of course impact how much electricity we use to cool our homes and subsequently how much we pay for it.
Studies have shown that states that allow residents to choose their own electricity provider allow consumers to save as well as benefit from the development of new products and services. Yesterday, the findings of a Kelton Research Survey* in Illinois were released, showing that 73 percent of Illinois residents are likely to switch home electricity providers to save money.
Among those inclined to choose a new electricity provider, cost savings, reliability, and ease of transition were the top three items to influence the decision to switch (see chart below).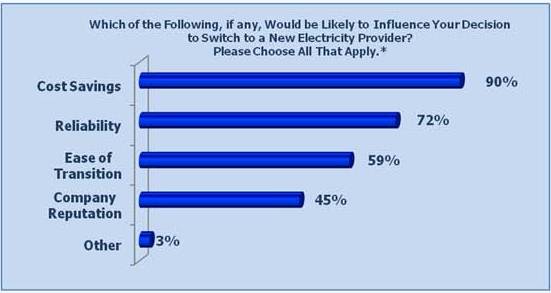 In addition to rising energy costs, the survey found that Illinois residents are also feeling the pinch of rising gasoline prices – more than one-third (36 percent) said that the high cost of gasoline over the last two months has caused their household spending to increase.
By Illinois state law, consumers can switch to a competitive electricity provider, which is great because just like choosing a new phone or cable provider with lower rates and more options, residents can now select who they buy their power from.
Choosing a new provider will have no impact on utility service reliability or billing. The utility will continue to bill customers for both delivery service and energy purchased through a new electricity provider.
Constellation Energy is among 13 competitive electricity suppliers listed by the Illinois Commerce Commission offering service in the ComEd service territory.  Constellation is offering residents living in the ComEd area savings up to 15 percent** off ComEd's current electricity rate. Constellation's plans are also good for the environment. All plans include 10 percent green energy generated from renewable wind power sources with an option to choose a larger percentage of green energy (50or 100 percent). I can speak to how attractive the offers are because I signed up myself.
To view your options or sign up, be sure to grab a copy of your most recent ComEd bill. Then, do the following:
– Go to: http://www.constellation.com/
–  Select your state and utility
–  View prices and complete the online enrollment process if you want to sign up.
Have any questions about choosing a new provider or about what Constellation is offering to Illinois residents to date? Email me or leave me a comment and I'll promptly respond.
David Fein is the Vice President of Energy Policy in the Midwest and Pennsylvania & Director of Retail Energy Policy at Constellation Energy. This is his first post on the Energy4Home Blog.
*The consumer awareness poll was conducted by Kelton Research, a leading national public opinion research company based in Los Angeles. The poll included 509 Illinois residents between June 3 and June 9, 2011, using an email invitation and online survey. The survey results had a margin error of 5 percent.
**COMED'S RATES ARE SUBJECT TO CHANGE AND THEREFORE WE CANNOT GUARANTEE SAVINGS OVER THE FULL TERM OF OUR PRICE PLANS. Our price does not include any taxes, utility distribution charges or other utility fees, charges or credits. Estimated savings are based on ComEd's BES residential (non-electric space heating) rate applicable from June 1, 2011 through September 30, 2011, which includes an Electricity Supply Charge of 7.154 cents and a Transmission Services Charge of 0.767 cents and Oct. 1, 2011 through May 31, 2012 (winter rates) which includes an Electricity Supply Charge of 6.986 cents and a Transmission Services Charge of 0.767 cents, respectively, but not PEA costs. The fixed price will apply for the remainder of your initial 12 or 24 month term. ComEd also invoices its customers for Purchase Electricity Adjustment (PEA) costs in the form of monthly varying charges or credits. We excluded the PEA costs from our calculation, as ideally they will net each other out over each June – May supply period. ComEd's residential rates after May 31, 2012 have not yet been set. Customers on ComEd's BES residential (electric space heating) rate will not save. Also, customers that are currently net metered must contact us prior to enrollment to determine eligibility. For more information on our price comparison, visit home.constellation.com. Your current supplier may charge you an early termination fee.
**