The only thing small about Small Business Saturday is the size of the businesses participating in this annual event. Launched in 2010 by American Express® as a way to celebrate and promote small businesses during the always-critical Thanksgiving-to-Christmas holiday rush, Small Business Saturday — the first Saturday after Black Friday — has grown astronomically since its inception.
Forbes magazine reports that in 2015 over 95 million people shopped at small businesses, including retailers, restaurants and more. That is an 8% increase from 2014. Total spending was $16.2 billion, an increase of 14 percent from the $14.3 billion spent in 2014.
The importance of Small Business Saturday only grows as consumers increasingly shop online, both in general and during the holidays in particular. "I know firsthand how valuable it is to have companies like American Express® support small businesses," relates Nichole Leinbach Reyhle, an AmEx spokesperson for Small Business Saturday and the founder of Retail Minded, a website and lifestyle publication devoted to independent retail businesses and their owners. "It's a way to celebrate small businesses and communities nationwide. As each year passes there is more success with Small Business Saturday."
Alan Broyles, a fourth-generation owner of Broyles' Jewelry in Spring, Texas, echoes Reyhle's point. "Small Business Saturday is very important," he states. "From Thanksgiving to December 24, we have to bang it out. If I tank in December, it's not going to be good."
Planning for a successful kickoff to the holiday sales season means having small business marketing tips in place before the holiday season begins. If you're struggling to come up with ideas or getting a late start, American Express® provides a variety of general small business marketing tips as well as specific customizable Small Business Saturday marketing ideas in a section of its SMB Saturday website. This includes downloadable materials as well as Shop Small tote bags, balloons and other marketing materials.
Small Business Saturday Marketing Ideas
The AmEx site also provides helpful small business marketing tips. Here are just a few:
Run a promotion that's available only on Small Business Saturday.
Offer discounts on Small Business Saturday for purchases that are in-store only if your company has a website. If you want to push online sales, offer free shipping on that Saturday or for some other period during the holidays.
Create a Santa's sleigh or other spot in the store where kids can pick a small gift while Mom and Dad peruse other items in the store. If the kids are happy, the parents are more likely to stick around and shop.
Up your social media game with special offers via Facebook, Twitter and Instagram. Choose a customer of the week and feature him/her on your company's Facebook page as one way to build engagement and shareability. Use the hashtag #ShopSmall in your social media posts to expand potential awareness. Tell your story on Facebook using Facebook Live and other video.
Offer coffee and other goodies in your store on Small Business Saturday. Show your customers you value them and care.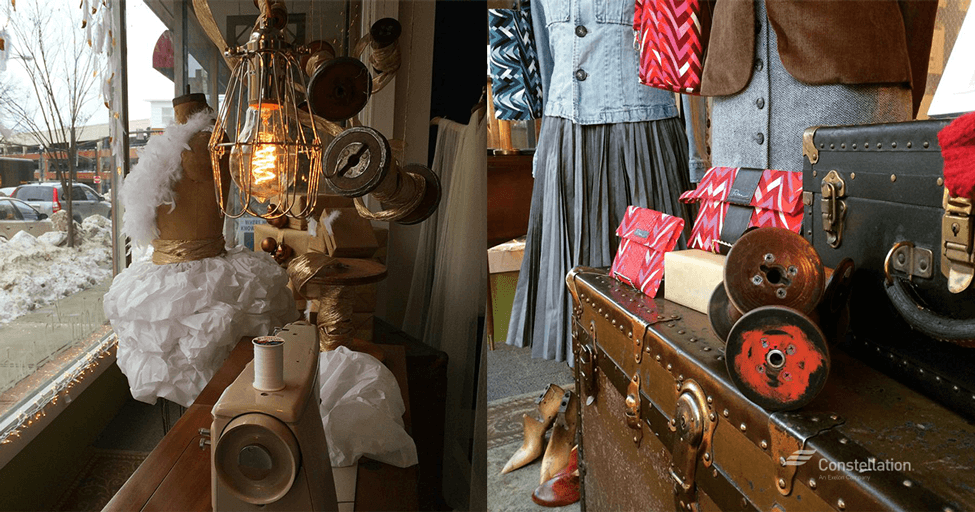 Source: Anchor No 5's Facebook Page
Small Business Window Displays
Alluring holiday window displays are another way to lure in shoppers and are an important part of any small business marketing tips list. Petra Jancovicova, owner of Anchor No. 5 Boutique in Troy, NY, is known in the Capital Region for her clever small business window displays. When she opened her boutique that celebrates local artisans — 100% of the goods in the store are handmade — she won the Troy Business Improvement District's contest for best window display.
An experienced window designer — her degree was in fashion and merchandising with a concentration in windows — Jancovicova gets her inspiration from all kinds of things. "Last year I went mad for plaid," she says. When we talk in late October, she's still considering what might pop up in her 2016 holiday windows. "It's always based on visual stimulation, whatever that happens to be at the time."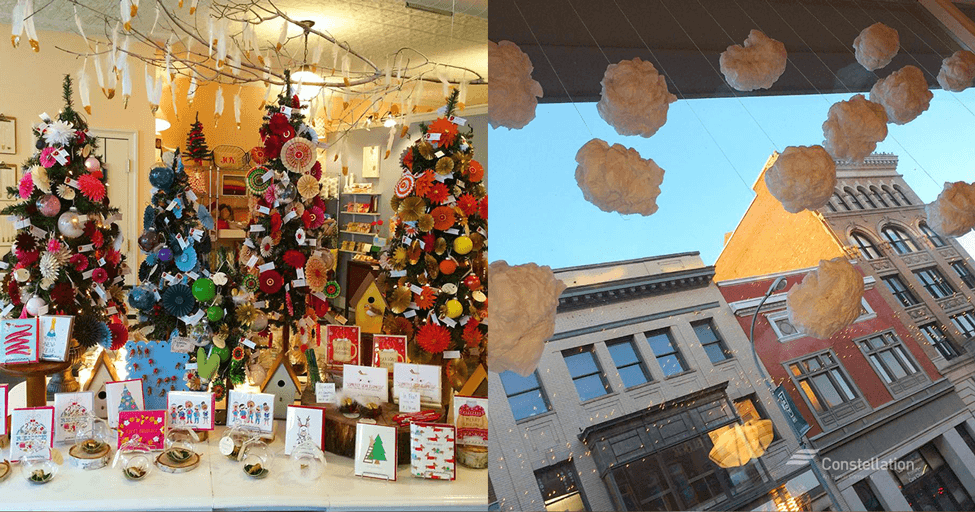 Source: Anchor No 5's Facebook Page
Jancovicova is a fan of making do with what she can find. "Always use what's available to you," she recommends. "Use what you have to work with." A couple of years ago, for instance, Jancovicova hung large wooden spools wrapped in gold wired ribbon. "They looked like they were floating," she says. "It's a feeling I'm trying to create for the customers. I use anything that's of visual interest."
With the increased use of lighting during many holiday displays, keeping energy usage — and therefore cost — low is also top of mind for many business owners. "All my lights get turned off the minute I leave the shop," Jancovicova notes. "I don't turn lights on until it's almost pitch black out. I never have extra lights on that aren't necessary."
The Consumer Energy Savings Center offers a few other suggestions for saving energy on your window lighting displays during the holidays:
Be sure any lights you choose have the Underwriters Label (UL), which shows they meet U.S. safety requirements.
Use the correct lights for their intended use. Outdoor lights belong outdoors. Indoor lights belong indoors.
Check for frayed wires, damaged sockets or cracked insulation before installing.
Don't overload electrical sockets.
Use energy efficient LED lights wherever possible.
What small business marketing tips have you used successfully in your business? Do you have any Small Business Saturday marketing tips that you'd like to share? We'd love to see your business's holiday window display, too. Share it on our Constellation Facebook page.