With more employees working remotely from home, the cost increases they face are significant. Among the many work at home expenses, energy usage is a big line item. As an employer, should you reimburse remote employees' energy costs? To answer this much discussed question, you have to consider your legal obligations, as well as issues that affect loyalty and morale.
How working remotely affects employees' energy usage
Does working from home increase the electric bill for workers who telecommute? Yes, in ways that are both obvious and not so obvious. Some people have seen energy bill increases in the 7 to 8% range. Consider these energy usage drivers when thinking through electricity reimbursement for your remote employees.
Increased internet usage
The equipment that delivers the internet into homes consumes power. Employees working from home may need to upgrade to more powerful modems, routers, boosters and extenders. Instead of just using their equipment after work at night, they may be using it all day, upping their power demands.
Increased lighting expenses
With remote working becoming much more common, people are using more energy for lighting. They may leave lights on in frequently used rooms that would otherwise be left off when they are at work. They may have also invested in additional task lighting for their desks and workspaces.
Increased heating and cooling costs
While many people turn down their thermostats in the winter or up in the summer while they are at work, that is no longer the case when people work from home. They tend to crank up the heat or the AC to be comfortable and productive all day.
In the winter, being at home means more coming and going, with the door opening more often to let in cold air. In the summer, keeping lights on and running computers and other office devices raises the inside temperature. In both cases, the HVAC system has to work harder.
Increased water consumption
Working from home means drinking more, cooking at home more and increasing the operation of water-consuming devices. Studies have shown that working from home during the COVID shutdown increased water consumption for drinking, showering, laundry, and toilet use over 20%. For some homes, that puts energy demands on pumps and for others, on hot water heaters.
Do employers have to cover their remote employees' energy costs?
The explosion of the work from home phenomenon has outpaced the ability of policy makers to keep up. When it comes to work from home reimbursement decisions and answering the question should you reimburse remote employees energy costs, you will want to consider legal requirements, if any, for your location. Factor in other issues that include morale, productivity, retention and competing for talent. Should it be possible to reduce your office expenses, you may be able to free up cash to more generously reimburse remote employees.
Here are some things to consider when making remote employee reimbursement policy decisions that can keep your small-business workplace running smoothly.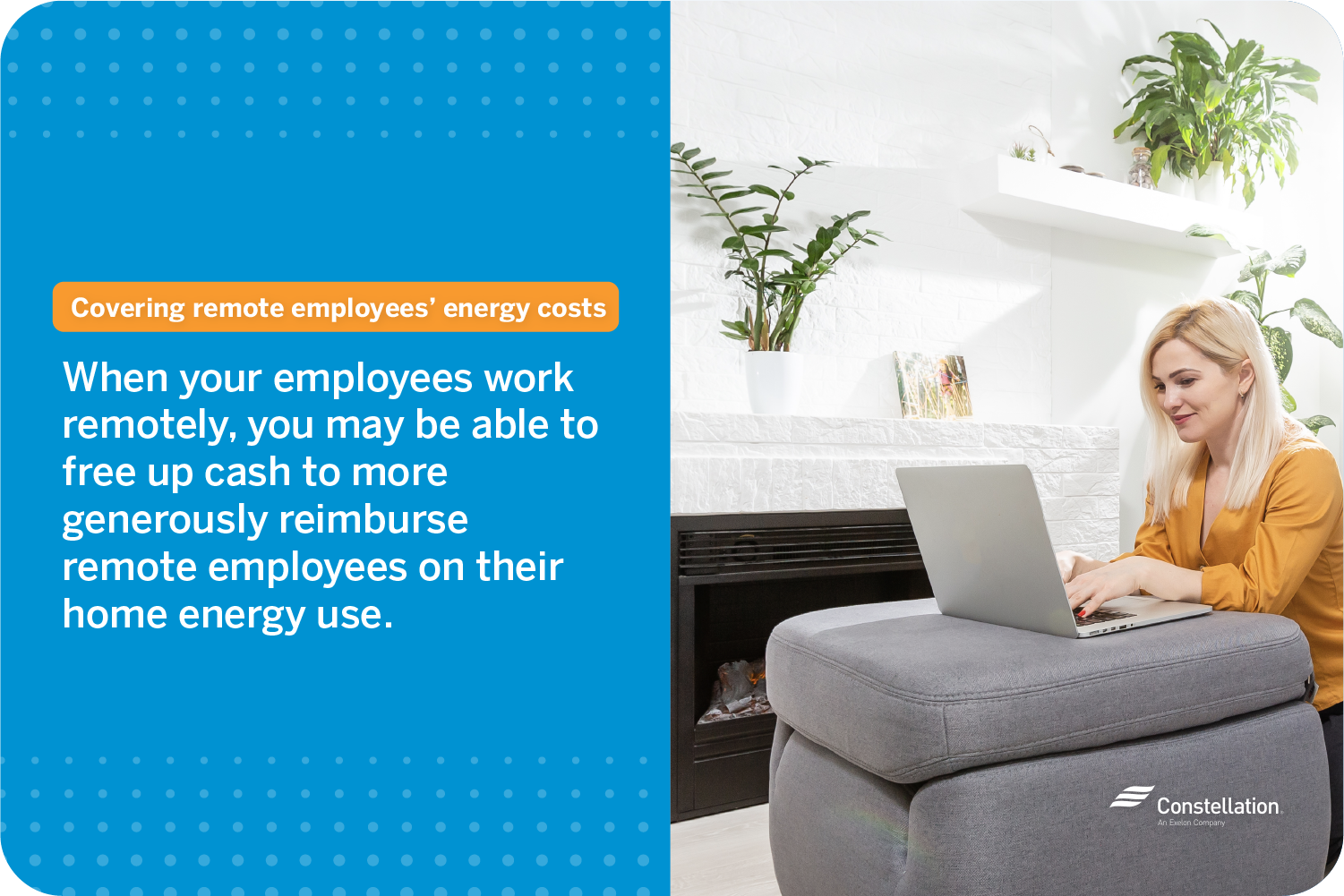 State and federal laws regarding remote employee energy reimbursement
Many states have laws that specifically deal with reimbursing employee expenses. They do not, however, specifically call out work from home reimbursement or mention energy. You are not legally required to provide electricity reimbursement for remote employees, but laws can be murky.
Some states require you to reimburse employees when they use their personal assets when working for you. Is home electricity a personal asset? The answer isn't clear, but paying a fair price for the costs employees incur when working from home can save you from court cases and disgruntled employees. Laws will eventually catch up with the "new normal," so it makes sense to get ahead of those changes with proactive policies.
When thinking through transformation strategies for your small business, plan beyond the legal risks and consider all the reasons why you should consider reimbursing employees' energy costs.
The benefits of reimbursing your remote employees
Improve employee satisfaction. When you are proactive with a remote employee reimbursement policy, you can get ahead of expectations with a high impact on morale.
Improve productivity. When you pay for better internet, higher-end digital equipment and the power to run them, you are giving your employees the tools they need to get their jobs done. A good plan will also help them save energy while working from home.
Improved reporting and controls. With a formal remote employee reimbursement process, you will have a better understanding of the true costs of running your business and can then put in the right controls. You can avoid unforeseen small-business costs.
Boost retention rates. Offering a great workplace–that is, making your employees' homes comfortable and productive–does more than boost morale. It contributes to loyalty. An employee who is treated well, especially when it comes to extra money for their homes, will be more likely to stay with your company.
Attract new talent. Competition can be fierce when you need to recruit employees for your small business. Providing electricity reimbursement for remote employees as part of a comprehensive remote employee reimbursement policy can help your company stand out as the best employer.
Should you reimburse remote employees' energy costs? As working from home becomes more common, it makes sense to give careful thought to that question. Does working from home increase electric bills? It most definitely does, so there is the issue of basic fairness. Beyond that, however, you have good business reasons for taking on that cost. Working with employees to save on home office energy expenses can improve employee satisfaction and potentially boost productivity as a result.