You probably know Constellation as a supplier of energy to your home or business — but there's also a big part of Constellation that focuses on being involved in and giving back to our communities. The Community Champions program is just one way that we're focusing our efforts on being good stewards of the community and helping people where they need it … in their hometowns and through deserving organizations.
We're proud to announce another Community Champions winner. Spectrum Autism Support Group is based in the Atlanta metro area and serves seven area counties and beyond. Don't let the name fool you, though — it's far more than a support group. In fact, Spectrum Autism Support Group offers a variety of support and resources, not just for people with autism but also their families.
While the organization is geared toward every member of the family of a person with autism, this Community Champions grant will specifically benefit the support group for siblings of children with autism.
About Spectrum Autism Support Group
Spectrum Autism Support Group was started in 1998 by Claire Dees and a fellow mom, both of whom have a child with autism. Dees, who is now the executive director of the organization, was raising three children and felt a need to reach out for support from other parents while having a place that offered safe and nurturing care for her child with autism. From these two moms, who relied on each other and their community for support, an organization grew that serves more than 1,000 families. At their first meeting, there were 100 people in attendance — 75 parents and 25 children with autism.
Currently, while the monthly support meeting for parents and siblings and social skills groups for children with autism are still a hallmark of the organization, there is so much more. They do social outings for adults with autism, and events like wine tastings, Family Fishing Day, special needs screenings of popular movies, and more.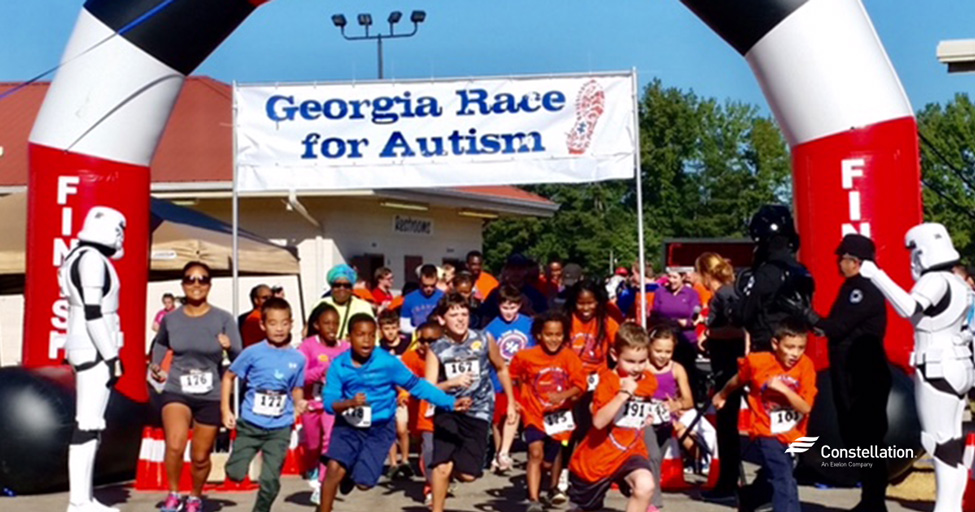 The Georgia Race for Autism and Fall Festival took place at the Gwinnett Fairgrounds in Lawrenceville, Georgia, on Oct. 1, 2016.
Spectrum Autism Support Group also has a summer camp program for children with autism, ranging from age 4 to young adult.
The SibShop Program
Radha Vettraino is the person responsible for making Spectrum Autism Support Group a Community Champions winner. Vettraino is a mother of three, the middle of whom, Polly, has Down syndrome, autism and OCD (obsessive-compulsive disorder). Vettraino is a Constellation customer and a Spectrum board member, and she received an email about the Community Champions grant program. Right away she knew that Spectrum would be a deserving recipient for a grant.
Vettraino applied for a Constellation Community Champions grant on behalf of the autism support programs that Spectrum offers. Specifically, though, she intends for the grant to benefit SibShop, which is the program for siblings of children with autism. SibShop was created by Don Meyer as part of the Sibling Support Project, which includes a curriculum of facilitated workshops geared toward children who have siblings with autism. The grant that Spectrum received as a Community Champions winner will be devoted to funding a year's worth of the SibShop curriculum.
Providing support for the siblings is so important, according to Dees. She said that the parents really want the siblings to have that break and to be surrounded by other kids who understand the specific challenges they face at home. The facilitators of the sibling support group are older teens or college students who also have a sibling with autism, so they truly relate to the struggles that these children are experiencing. Also, many of these children have their own special needs, such as learning disabilities, ADHD or other issues, and often don't get as much attention at home because they are more highly functioning than the sibling with autism.
Dees shared one anecdote about her older daughter's time as a volunteer in the sibling support group. One child was mentioning that his autistic brother would routinely take off all of his clothes and run naked through the house. Dees' daughter Jennifer, a teenager at that time, very calmly said, "Oh, yes, my brother does that, too." For these kids, understanding that they're not alone is huge.
Funding autism support programs
Despite the large number of families and individuals who benefit from these autism support programs, funding remains a challenge. All of Spectrum's funding is from sponsorships and donations from corporations and community businesses. All of the money that they receive is geared toward providing these programs to any family that can benefit from them. Vettraino said that another objective of hers, as a Spectrum board member, is to raise money so that the summer camp can be affordable for any family who would like a child to participate.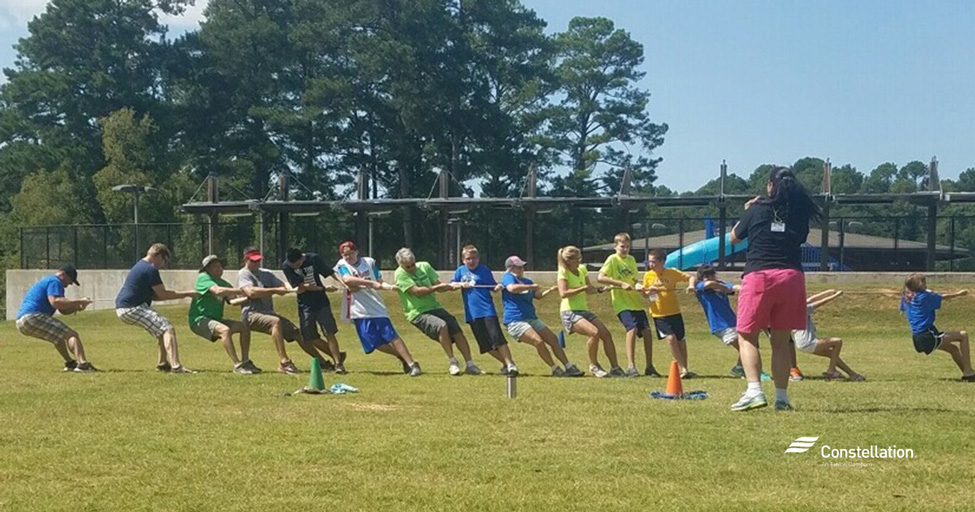 Lots of fun was had at a family tug-of-war event at Spectrum Family Camp in Winder, Georgia, during Labor Day Weekend 2016.
One thing that's striking about both Vettraino and Dees is that both of their families have "aged out" of many of these programs. They are no longer participating as parents of children with autism, but remain involved in and dedicated to the organization because they have seen the benefits to their own families and others.
As Claire Dees noted, "A grant the size of this one — $500 — for some people may not be very much, but for us, we can make it go a very long way, and it makes a huge difference for us, so we love these opportunities."
If you are part of an organization that could benefit from a grant, we encourage you to apply to the Community Champions program. We've awarded not just autism support grants, but lots of others, including sports programs, music programs, and more.