Meet the Friesians! If you ask Doris Kennedy of Wolf Den Farms about Friesians, she will tell you that they are perfect for animal-assisted therapy. Grants from Constellation have been provided to various animal-assisted therapy programs across the country, but Kennedy is doing something unique, which is why she has been selected as one of our Community Champion winners.
Constellation Community Champions are nonprofit organizations that have been selected to receive a grant up to $500 — anything from autism support programs to sports for kids in low-income communities to recycled materials made into products for zoos. To date, we've awarded more than $260,000 to organizations in 17 states, and we're continuing to accept applications for even more.
Animal-Assisted Therapy Programs
Statistics show that the human-animal bond is strong, and pets can be beneficial to people with physical illness, emotional distress, and those who simply want companionship. Kennedy is bringing that benefit to anyone who needs it by offering visits with her Friesian horses, Cora and Gracie. She was quick to point out that not all breeds of horses are a great choice for equine-therapy programs. Friesians are native to the Netherlands; they are large and black, and used to be war horses. However, they've been bred to be people-oriented and they are, by nature, gentle and calm. Kennedy said that the breed almost became extinct in 1917, when there were only three left. But, the Dutch brought the breed back and their gentle demeanor makes them "the perfect therapy horse."
Kennedy and her husband, Bill, have been the loving owners of mares Cora and Gracie, whom they've raised for 16 and 14 years, respectively. They live together on the Kennedys' Brooklyn, Conn., farm.
Kennedy has always been a strong proponent of animal-assisted therapy programs and, specifically, equine-therapy programs. Years ago, she would offer therapeutic riding lessons to children with cerebral palsy. And, as a cancer survivor herself, she understands how companionship with her horses has gotten her through some of her most difficult challenges.
Two years ago, Kennedy reached out to The Last Green Valley, which is an organization that promotes a 35-town National Heritage Corridor in eastern Connecticut and south central Massachusetts. This nonprofit is dedicated to "ensuring a natural and cultural legacy for generations to come." One of its biggest events is Walktober, in which residents and guests are encouraged to explore the Natural Heritage Corridor through walks, hikes, bike rides, farm visits and other outdoor activities. Kennedy was inspired by the program and asked if she could bring her horses so that people could get to know them. She said this is how she came up with the idea of offering her horses' companionship to visitors to her farm.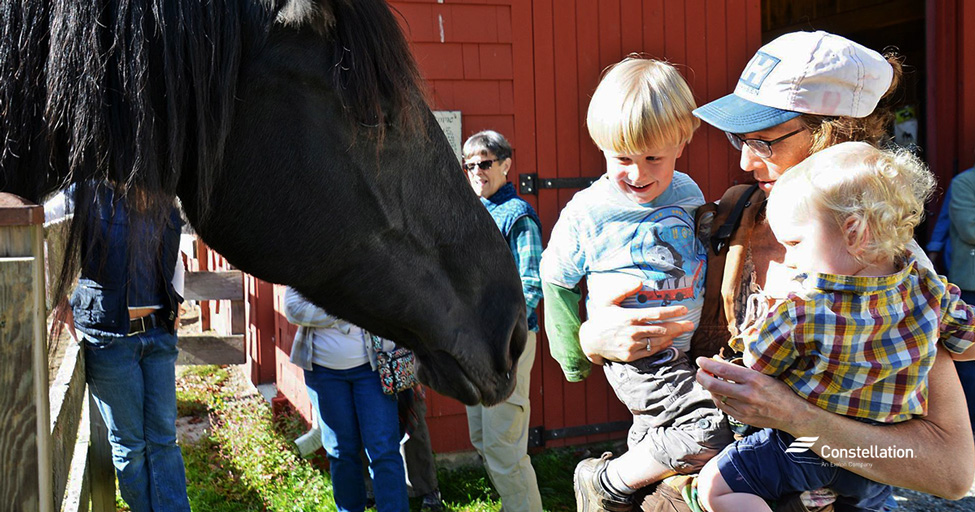 Gracie meets with some of her youngest admirers at Walktober this past fall.
As part of Walktober, she scheduled a Wednesday in October for people to visit with Cora and Gracie. The Walktober coordinators expected only a handful of people to come visit with the Friesians, but they had 78 guests on their first day! And, so, Kennedy knew that she needed to make her horses available to people who want to spend time with them.
Visiting the Wolf Den Farm
Following her first trip to the Walktober event, Kennedy opened her farm to visitors who wanted to spend time with the horses. There was one woman who suffers from depression who visits them often. One day, Kennedy returned home to see the woman spending time on the farm. The woman told her, "I was just crying on Gracie's neck for 45 minutes, but then I realized it was Cora." Kennedy found that to be touching, because she sees Gracie as the more "compassionate" of the animals, but she took that as a sign that Cora knew that the woman needed her comfort and was happy to provide it.
As Kennedy said, "Obviously, people are interested in these horses. They are very rare, and there's something stately about them. Animal-assisted therapy is helpful in any form. Pets are something that, especially for older people, [can fulfill] the need for companionship. I'm a big believer in what animals can do to help."
Several of the people who regularly visit the horses are those whom they met at Walktober, which is why Kennedy applied for the Community Champions grant. In order to get the word out, she wants to print brochures or other literature that she can give out so that people know how to contact her and locate the farm.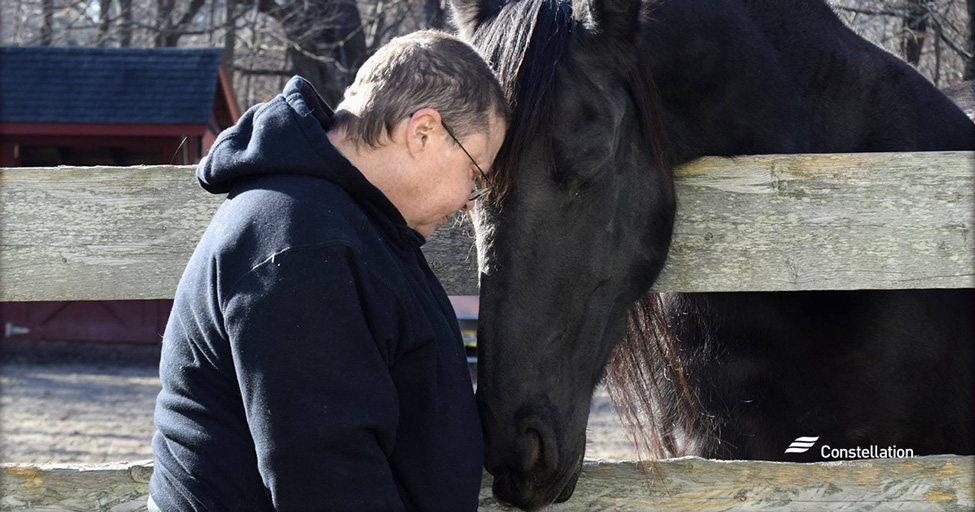 One woman finds comfort in her time spent with Cora at the farm.
Owning a horse is no small endeavor. Experts estimate that the cost of caring for a horse can be several thousand dollars a year, which would include vaccinations, dental, deworming, routine vet expenses, hay, grain, bedding, water, health insurance, and other things. Kennedy said she just paid $1,500 per horse for insurance because a hospital trip could cost many thousands of dollars if anything were to happen. She estimates that each horse eats a bale of hay a day, at $7-8 per bale, which, alone, is over $5,000 per year. But, Kennedy is devoted to her horses and said, "If I had it to do over again, I would." She doesn't blink at the expenses because to her, those Friesians are worth it.
Raising awareness of equine therapy programs
As a Community Champions grant winner, it's Kennedy's objective to raise awareness of animal-assisted therapy programs and equine-therapy programs through her own small farm and community. She intends to eventually hire a licensed therapist to participate, and she is eager to get the word out so that she can bring in as many visitors as possible. Since transporting the horses is difficult on the Kennedys and on Cora and Gracie, she would rather have the community come to her farm than bring the horses out more than necessary. Right now, she's still figuring out what are the best ways to have her horses reach as many people as possible. She said, "I have lots of thoughts about where it could take me."
Kennedy is so excited to have been selected as a Community Champions award recipient because the seed money is what she needs to get her animal-assisted therapy program off the ground. She sees no limits to how people can benefit from animal-assisted therapy. Grants are a great way to start a program or add to existing ones. If you have a program that you believe could benefit from being a Constellation Community Champions winner, apply now.