Can you picture the neighborhood school in your community? Perhaps the school that comes to mind is your own elementary school. At Constellation we understand that those early years of education are crucial — they set the foundation for a lifetime of learning. That's why so much of the corporate giving that's so important to us is directed toward children and education. In the case of the Longfellow Elementary School, the students are benefiting not just from academics, but also from the richness of the performing arts.
Henry Wadsworth Longfellow Elementary School isn't just any school — it's a magnet school for the creative and performing arts. A magnet school is public, but it offers special programs that are not available elsewhere in the district. As part of the Longfellow Elementary School magnet program, the curriculum includes daily 50-minute classes in art, music, choir, band, orchestra and dance. There are theater and keyboard classes available after school as well. Most students at Longfellow Elementary School participate in a fine art performing group, and school-wide events throughout the year are designed to showcase students' work and talents. In addition, students perform in competitions, have won awards and recognitions, and participate in a variety of local events.
Longfellow, known locally for many reasons, is especially proud to embrace The Leader in Me school-wide model of student empowerment. The Leader in Me is the FranklinCovey method of school transformation; it's designed to "[create] a culture of student empowerment" through leadership and life skills so that every child can be a leader.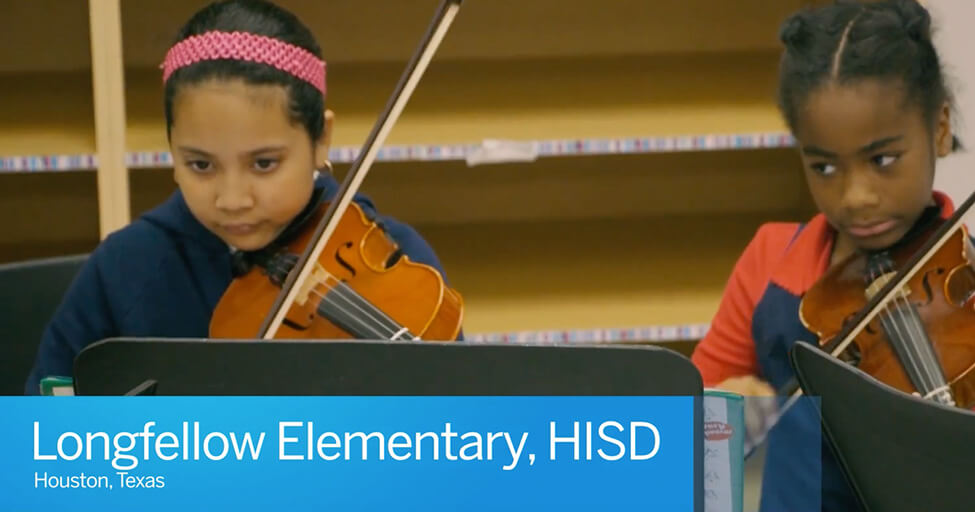 Longfellow Elementary School Needed Our Help
How did Longfellow Elementary School become recognized to be one of our grant recipients? Music educator Mindy Snow responded to an email she received from StarTex Power, one of Constellation's brands in Texas, about Constellation's Community Champions program. Snow, who has been a StarTex Power customer for a decade, was excited about the Constellation grants for nonprofits and applied on behalf of Longfellow Elementary School. "We were really thrilled when we got the email about the Constellation grant and decided to apply," she said.
Snow had never applied for a grant before, but she knew that Longfellow Elementary School was in need. The district had always allocated a certain amount of money per child, per year for the fine arts, but it only amounted to a dollar or two per child. Still, that was enough to fund field trips and other enriching experiences for the 850 students in the Longfellow Elementary School and 125 in Snow's orchestra track program. Then, the legislature voted to cut back the performing arts funding by 33% each year for three years — so, when Snow arrived at school last fall, she discovered that there was no money for programming. As a residential customer of StarTex Power, Snow knew she had to act when she received the email about the Community Champions program. The grant allowed Snow's students to see the Houston Ballet at the Wortham Center in downtown Houston, to receive coaching and to have hands-on arts experience in school.
Snow said that she was relieved that the grant process was so simple. She said, "StarTex Power did a really good job of making it feel really local to our community," and she mentioned that because of the grant, the children didn't even realize that there had been no money for their beloved programs.
Here's more of what Snow had to say about their experiences:
She goes on to credit the richness of experience with building students' confidence in the arts and in their academics. "That feeling of 'I can do it, and I don't need help' is really making a difference in these Title I schools … [students are] getting benefits in the music class, but they're also getting academic benefits," she explained.
The Importance of the Arts at Longfellow Elementary School
Snow believes that her program, orchestra, is crucial to the long-term success of so many students — and it's not just about music. It's about seeing opportunities in their lives that they might not have otherwise. She believes that for students who might be exposed at early ages to drugs or gangs, the orchestra program is part of what influences them to stay away from those dangers, stay in school, and aim for college and a career.
"Teaching orchestra to the poorest of the poor … gives them a better peer group," Snow said. "They can go to middle school and get into a better social track in a lot of ways. [Music education] tends to improve math scores, improves their reading."
The orchestra program at Longfellow Elementary School is for first through fifth grades, and when that ends, they can choose to stay in the track through middle and high school. Many of her students get competitive, coveted spots in the High School for the Performing and Visual Arts, which opens many doors and opportunities for them.
Community Involvement Matters
Snow's story is an interesting one. She had once applied and was accepted to law school, with her goal being to become an advocate for the arts in education. However, she needed to defer her enrollment for a few years in order to be able to have in-state resident tuition. It was during that time that she started teaching at Longfellow Elementary School and running the orchestra program. When she couldn't defer law school any longer, she realized her involvement with the students at Longfellow Elementary School was actually the perfect way to advocate for the arts in schools. She said that doing so "connected" her with her passion for the cause in a way that she wouldn't be able to as a lawyer. Yet, it's still up to her to help her school find the money for all of the activities that she sees as crucial to her students' education. Because most students come from low-income households, asking them to pay their own way for field trips and experiences would not be an option; likewise, fundraising would not be affordable for the school community either.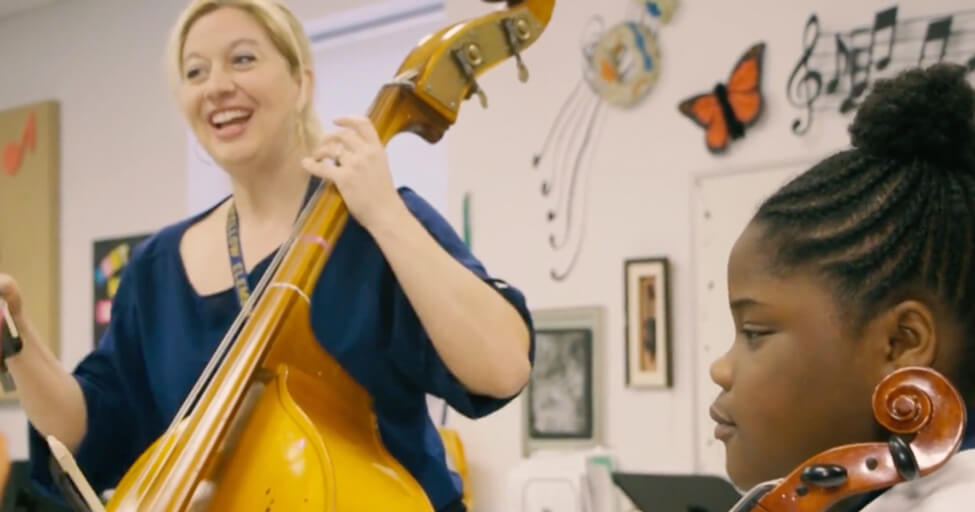 How did Snow become a StarTex Power customer in the first place? She remembers that detail well. She had been told many years ago that StarTex Power would be a great option for alternative energy. She was interested in using wind energy with a locked-in rate, and StarTex Power was able to give her exactly the service and rates that she wanted. In her words, "I wanted to choose wind energy, and I [was] looking for a locked-in rate, and this is perfect for me! We've been with StarTex Power ever since." Little did she know that the decision she made to become a StarTex Power customer a decade ago would lead her to being able to help fund the school programs she's so passionate about now!
Community involvement and corporate giving back to the community are part of Constellation's mission. The Longfellow Elementary School enrichment was made possible because, in addition to volunteer efforts in various U.S. cities, Constellation offers grants to nonprofits through Community Champions. This program is designed to help fund local initiatives with grants ranging from $200-$500 that are awarded three times each year.
Have a local program or initiative you'd like to see funded? Find out if your organization would be eligible for one of the Constellation Community Champions grants for nonprofits.