Community involvement and corporate giving back to the community are part of Constellation's mission. In addition to volunteer efforts in various U.S. cities, Constellation offers grants to nonprofits through Community Champions. This program is designed to help fund local initiatives, with grants ranging from $200-$500 awarded three times each year.
One recent grant recipient is the Youth Ensemble of Atlanta. Founded in 1990, the Youth Ensemble of Atlanta (YEA) uses the arts — specifically dance, theater and music — to provide a cultural and creative outlet for Atlanta area youth. Through the arts, observed Executive Director Debi Barber, children and teens learn to be empowered both in their artistic interests and in their personal growth.
"A lot of times, the arts save their lives," Barber said, noting that the weekly Saturday Youth Ensemble of Atlanta programs are free to students. YEA "keeps them out of that gang or hanging out at the mall doing nothing. To learn how to present yourself in a situation is key to development."
The Youth Ensemble of Atlanta does not steer away from tough topics. The titles of a few recent performances — all of which are written by the students — prove the point. Prey focused on the challenges of growing up as a young black man in America today. "It's about the things mothers and fathers have to say to their young men as they grow up," Barber stated. "I had to have that [talk] with my son about how to approach a conversation with the police and how to leave that safely."
Noting the play premiered on the day Michael Brown was found lying in the streets, Barber recites a few lines from one of the songs the students wrote: "There's a pipeline from school to jail. There's a pipeline, and it doesn't give the country oil. There's a pipeline, there's a pipeline, and it will make your blood boil." Other shows have covered child abuse, apartheid, AIDS and sexuality.
From a partial list of some of its graduates, it is clear that YEA is making an impact. Barber ticked off a few: Kenan Thompson, a regular on Saturday Night Live; Kandi Burruss, who appears on The Real Housewives of Atlanta; and Kamil McFadden, who plays Ernie on the Disney Channel show K.C. Undercover. Youth Ensemble of Atlanta alums can also be seen on Broadway and all around the world. "Our kids have played all over the planet," Barber asserted.
Indeed, the ensemble has toured in Amsterdam, Belgium, South Africa, and China. In 2008, the Youth Ensemble of Atlanta received a Coming Up Taller Award from the President's Committee on Arts and Humanities. YEA was one of only 40 organizations honored worldwide that year, Barber revealed.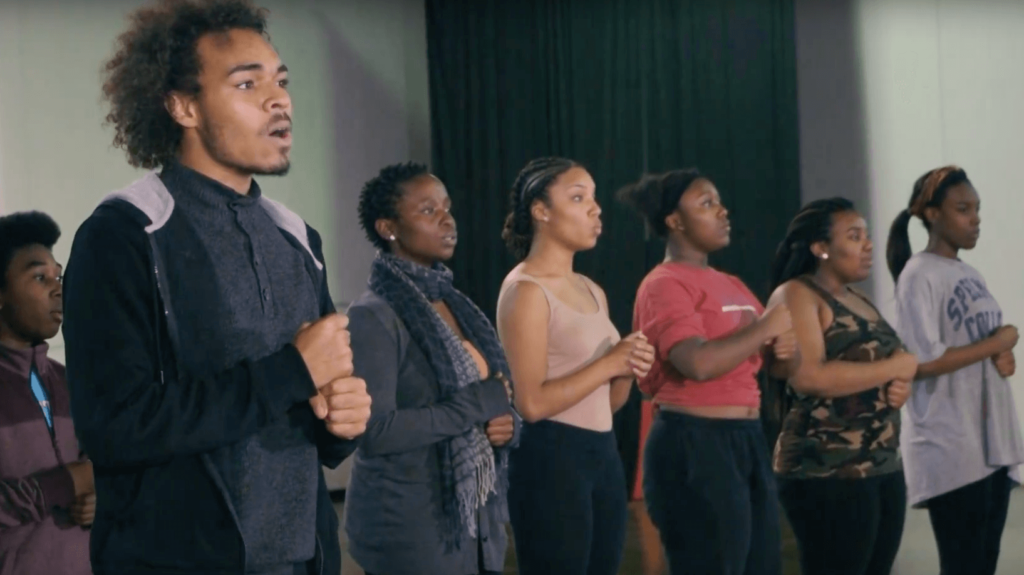 Since its founding, Barber, who has been with the Youth Ensemble of Atlanta since the beginning, estimates the organization has helped thousands of underprivileged Atlanta youth. The program generally works with 50-60 students at a time. Students can start attending at age 9 and stay until they go to college. Barber said YEA graduates often return after college to help mentor current students and help out. "It's a family," she noted.
While artistic talent is important, the real driver to getting accepted to the Youth Ensemble of Atlanta, Barber stressed, is passion. "They can't come just based on talent, but based on passion. If they really want to do this, we can work with them." Students must audition, and all students attend free of charge.
"If our kids had to pay for a program like this, none of them would be in the arts," she disclosed. "Any kid can go to a recreation center and get training in sports and pretty good training. But in the arts it's very sad that our kids cannot go and get any kind of training in the arts. You have to pay for it and in our community, our parents just cannot afford that kind of fee. So those kids passionate about the arts get left out."
Barber is grateful for Constellation's community involvement. The Community Champions award of $500 enabled YEA to purchase another Mylar mirror to help students see themselves as they dance and act. "Mirrors impact how they see themselves and show their growth," she emphasized.
Have a local program or initiative you'd like to see funded? Find out if your organization would be eligible for one of the Constellation Community Champions grants for nonprofits.