People might assume that a large energy company would only be interested in funding energy-related or maybe science-related community projects. While Constellation certainly believes investing in energy programs is important, we have a broader impact when it comes to corporate social responsibility initiatives. Community Champions, an outreach program the company started in 2010, is a perfect example.
Through the Constellation Community Champions program, people can apply for grants of $250 or $500 for projects that are important to their community. Applicants must be Constellation or StarTex Power customers. Winners are announced three times a year in February, May and September.
"We think that giving back to our community is part of who we are," says Constellation Senior Manager of Corporate Relations Carrie Stockwell of Constellation's corporate social responsibility initiatives. "The Community Champions program is a great way to do that. It's a way that also incorporates our customers and puts them front and center in giving back. The projects are so local that you can really see the good that's happening in them. It's something we can all feel really good about and be proud of."
The Constellation Community Champions program has grown exponentially since its inception, notes Stockwell. More groups are applying, and Constellation is awarding more grants. This year alone has seen an increase from 88 grants awarded in May to 112 in the newest winner group. The latest group of grant winners brings the total number of grants awarded since the start of the program to 971.
Part of the reason for the increase, Stockwell says, is that awareness about Constellation Community Champions is growing. What started as a pilot program in four states served by Constellation, this time around saw grants awarded to community projects in 15 states. "It's growing organically in our customer base," Stockwell observes, noting Constellation is promoting the program in all its social media channels. "It is such a rich, diverse set of projects every time. Reading through the projects is such a joy."
Of course, an increase in submitted projects makes choosing them a tougher job. While Constellation plans to increase annual support of Community Champions from $125,000 to $150,000 in 2017, choosing from among the many worthy projects is a challenge.
Stockwell looks for these main criteria when deciding whether or not to award a grant:
How well the program focuses on the primary areas of interest for the grant, which are education, environment or youth.
How compelling the project is. "You can tell very quickly if they have a specific goal in mind and a plan to meet that goal," she states.
How clearly the budget reflects the way the grant will be used.
How much community impact the project will have.
Want to get a feel for the breadth of the Constellation Community Champions and whether your favorite community project might be eligible? Here are a few winners of Community Champions initiatives that show the types of programs that can get funded.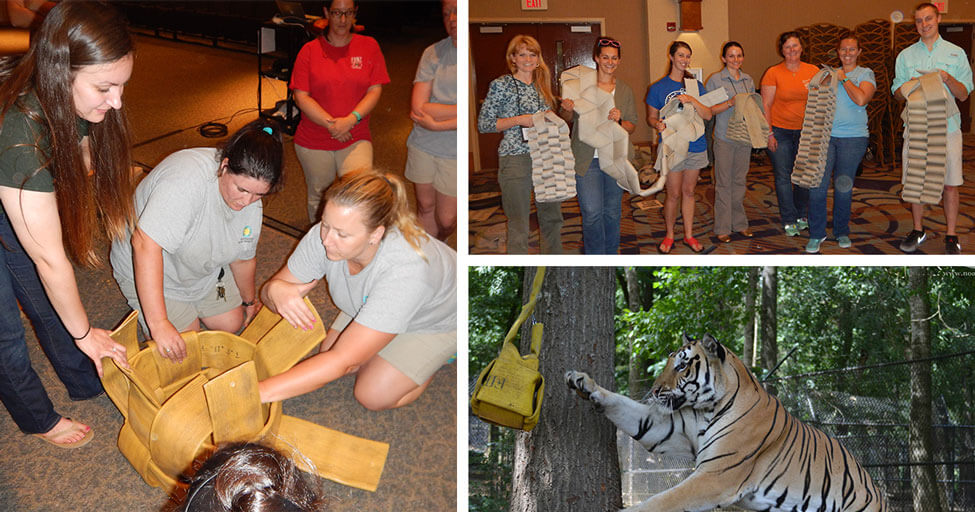 Hose2Habitat
Lisa Daly and Andrew Slamin got the idea for Hose2Habitat when they were both volunteering as emergency medical technicians for their local fire department. "We saw them throwing away fire hoses by the dumpster load," Daly remarks. "We had been to zoos and saw they used fire hoses. So we contacted the National Zoo [in Washington, D.C.] and asked if they needed more. They said it was like gold."
Fire hoses are used in a variety of ways to create enrichment toys and products for zoo animals to help them in captivity. "It was unbelievable to me that we were throwing them away a few miles away," Daly notes.
Daly and Slamin organized donating fire hoses from their fire department to the zoo — and an idea was born. Today Hose2Habitat, which was formed just two years ago, has fire hose recovery projects around the world. The group has expanded its efforts beyond fire departments to include corporations interested in finding more environmentally-friendly ways to get rid of the fire hoses you see hanging in spools on walls. "It may never get used but it has to be replaced every couple of years due to regulations," Daly comments. "The companies were trying to figure out how not to put them in landfills."
Hose2Habitat also has expanded beyond fire hoses, and is now helping companies recycle everything from PVC pipe and phone books to shade screens and cargo nets, all of which Daly says are excellent for animal enrichment. They have even found a home for boat bumpers, which weigh 675 pounds. "They're excellent for elephants," Daly says. "They can lift 700 pounds with their trunks."
The nonprofit also runs workshops to educate zoo, aquarium and other animal caretakers about how to use these recycled items for enrichment. They have held seven workshops that were attended by over 50 zoos, including Disney Animal Kingdom and Busch Gardens. Over 200 keepers have attended the workshops to date.
Getting a Constellation Community Champions grant made a big different to Hose2Habitat, Daly adds, noting the $500 grant helped them pay for some of the travel expenses of the instructor who led four of their enrichment workshops.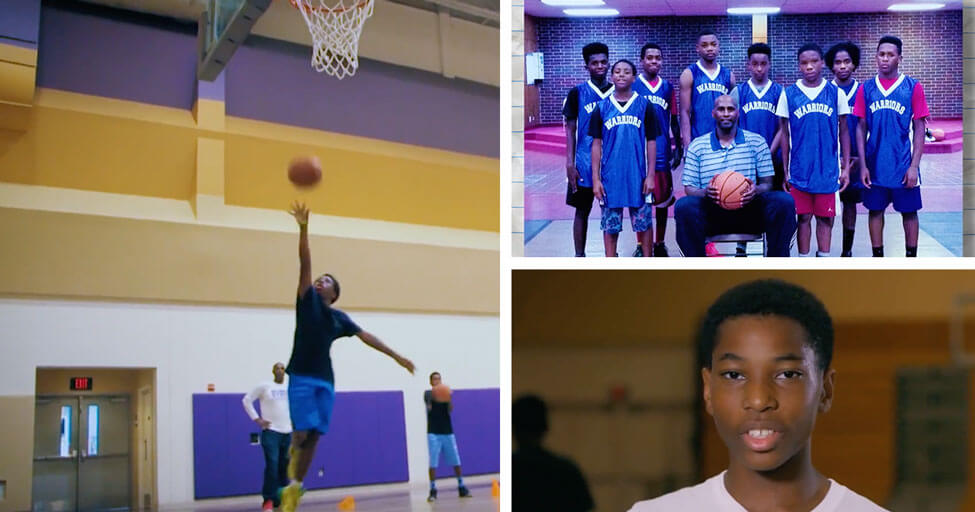 Silver Lining Sports Academy
Former professional basketball player Markeal King has a straightforward idea about how to help young boys in Atlanta, Georgia stay out of trouble: Hand them a basketball and get them involved on a team.
That's one reason he started Silver Lining Sports Academy. "It's a good opportunity to be a mentor to a lot of kids," he says of the summer team that the Constellation Community Champions grant helped to fund. "A lot of them are from single mother households. Having [the kids] around some strong male figures … was really big for some of the mothers."
King was inspired by his grandmother, Mattie King, to start the academy. "She was also big on helping people," he says of his grandmother, who died in 2014. "My passion is to help people." Coaching is something he's done for years.
The summer team, which included boys 13 and under, practiced two days a week for two hours each day. They played in tournaments every other week as well. "It's a good opportunity to be a mentor to a lot of kids," King observes of the program.
He used the $500 grant to pay for team uniforms and to help offset tournament fees.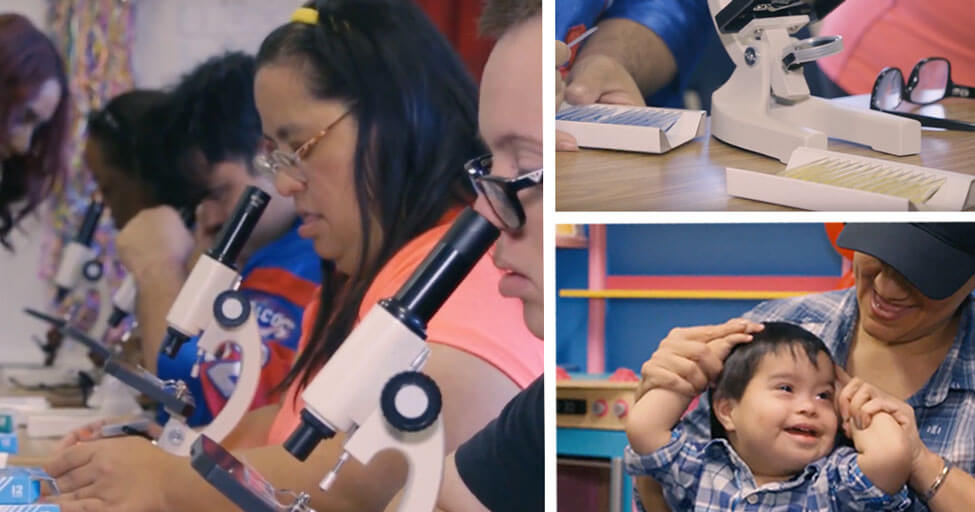 Down Syndrome Association of Houston
One of the biggest programs offered by the Down Syndrome Association of Houston is its Education for Life Program. The program offers post-high school continuing education for 41 young adults, providing various life skills that can help them in potential job placement.
The Discovery part of the program got a boost this year when the association bought microscopes, thanks to being awarded a Constellation Community Champions grant. "The microscopes tie in with discovery," comments Executive Director Alejandra Lima. "They're visual learners. The more they see, the more they learn. The microscopes opened up a whole new world for them to see something microscopic. It was really an eye opener. They were a perfect fit for their way of learning."
Do you have a community project you'd like Constellation to support? Find out if your project might qualify for Community Champions initiatives now. To go directly to the application click here.