As a leading competitive retail supplier of power, natural gas, and energy products and services for homes and businesses across the continental US, and a subsidiary of the Exelon Corporation, Constellation's main focus is supplying power to millions of consumers across America. But Constellation also puts energy — a lot of volunteer and funding energy — into corporate social responsibility initiatives. Constellation wants to give back to the communities in which its own employees live and work.
Through its Community Champions program, one of many Constellation community initiatives, the company provides funding for special community-focused projects — everything from science fairs to community band award cases. Constellation community initiatives with Hands on Atlanta, for instance, include helping the organization extend and expand its very successful ParentU program.
But perhaps one of Constellation's largest corporate social responsibility initiatives has been with Habitat for Humanity. During National Volunteer Week 2016, 90 Constellation employees volunteered a total of 500 hours. The volunteers took part in six Habitat for Humanity initiatives in Baltimore, MD; Louisville, KY; New York, NY; Ann Arbor, MI; and De Pere, WI.
Constellation community initiatives with Habitat involve more than volunteer sweat equity. The company also funds a variety of Habitat for Humanity initiatives.
"We find their mission so compelling, to provide safe affordable housing," says Carrie Stockwell, Constellation senior manager of corporate relations. "But to piggyback on that, they have found a way for us to provide two key areas to that mission."
One, Stockwell explains, is Constellation community initiatives with local Habitat affiliates that enable Constellation to implement energy improvements in the markets. "It depends on the market," Stockwell says, "but in every market we've been able to identify some program and add elements to help Habitat homeowners save energy and save money."
In Houston, TX, and Baltimore, MD, for instance, Constellation's Habitat for Humanity initiatives have included weatherization projects that have helped improve the efficiency standards for the buildings. "It looks a little different in each market, but noticeable improvements in energy parts of the homes is a key driver for us," Stockwell states. She adds Constellation's energy investments result in critical savings of up to 85% for Habitat families.
Stephen England knows the value of Constellation's community initiatives with Habitat firsthand. He, his wife and their three daughters live in a Habitat townhouse built under the auspices of the Habitat Boston chapter. It is also part of Boston Habitat for Humanity initiatives focused on solar power.
England spoke recently at a Boston Habitat for Humanity fundraising breakfast. He was working two jobs while his wife Arlene worked as well. The family of five lived in the attic in the third floor of his aunt's house. "Our living condition wasn't great," he told the audience. "When we tried to cook, the circuit breaker would trip and to get it turned back on, I'd have to call my aunt to come home because we had no access to the breaker. And it would get so cold we would all huddle together in two small rooms."
A friend at work suggested that England apply to Habitat for Humanity. He did, and the Englands were eventually chosen for the program. He and Arlene put in 300 hours of sweat equity on their days off, moving into their home last June.
"It is so affordable," he said. "Our mortgage is great; our light bill is zero because we have the solar panel on the roof."
That enthusiasm is echoed by others in the Boston Habitat chapter who benefitted from the solar funding Constellation provided, says Esther Powell, director of family services at the Boston Habitat for Humanity chapter. All told, six families will receive solar panels in their Habitat homes thanks to this particular Constellation social responsibility choice.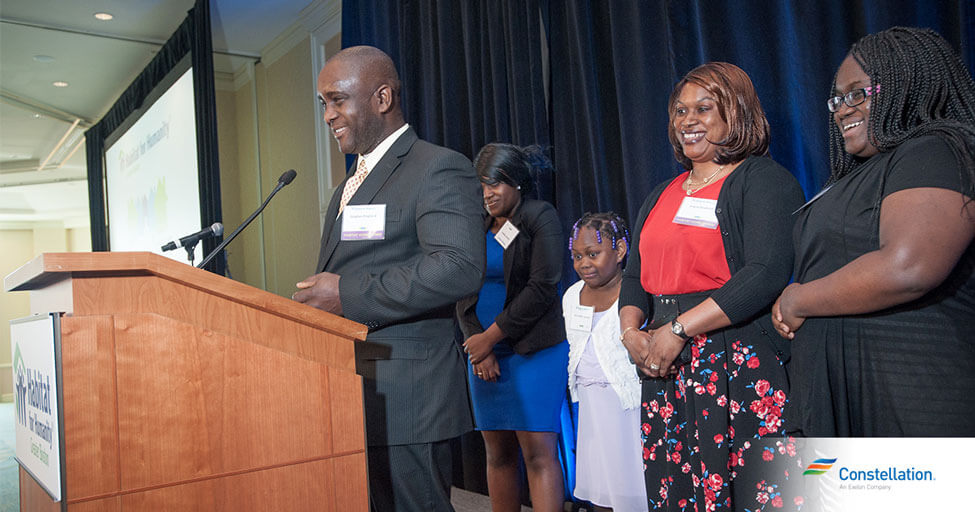 "Unequivocally [the Habitat homeowners] love it," Powell relates, noting that she receives copies of their electric bills as part of their data tracking. "I'll get it in an email or text with a comment like 'thank you, Habitat' or smiley faces." She said one family hadn't had to paid anything on their electrical bill for three months. "It's a joy to track this information because it's so wonderful."
Adding renewable energy options to their buildings is an important part of Habitat for Humanity's initiatives, emphasizes Lark Palermo, president and CEO of the Boston Habitat for Humanity chapter. "Habitat is not just an affordable housing program," she observes. "It's a real program about responsible home ownership."
And having homes with renewable energy resources is another way for everyone to be more responsible, she says, noting that this initial Constellation funding enabled Habitat to put solar panels on six different units in the complex. "Without Constellation and that financial support we couldn't have done this. Having had the chance to get the initial funding from Constellation and now collect the data so we can demonstrate the benefits is really wonderful. It has opened up a whole new world for us in terms of getting support for our Habitat programs."
Constellation is continuing its commitment, funding a second set of solar panels in the Greater Boston area as part of its continued corporate social responsibility initiatives.