Customers are increasingly interested in engaging with companies that have a sense of corporate social responsibility. A May 2013 study by Cone Communications and Echo Research found 82 percent of U.S. consumers consider corporate social responsibility when deciding what products or services to buy.
Constellation didn't need a study, however, to know that corporate social responsibility was something it wanted to put high on its to-do list. Giving back, according to Constellation Corporate Relations Manager Rachel Duncan, is one of the company's top priorities. "It's part of our core values to give back to the communities where our customers are," she says.
Giving back in cities where Constellation has a large employee population, such as Houston, Texas, and Baltimore, Maryland, is easier, Duncan says, noting that the company has strong volunteer programs in those locations with groups such as Habitat for Humanity.
Getting involved in the community is trickier in places where Constellation has fewer employees.
That's one reason Constellation created its Community Champions program two years ago. A community grant program, Community Champions, is designed to help local communities fund projects that are important to them. "Community Champions is a way to leverage dollars in a way to give back to the community," Duncan says.
Grants, which are open to any Constellation or StarTex Power customer, are awarded three times a year. Nearly 80 new winners were just announced this month. Prior to this new round in the community grant program, Constellation had awarded 327 grants totaling a little over $200,000 since Community Champions began in December 2013.
While it might seem logical to assume this community grant program would be focused solely on local energy projects, in fact the projects that receive funding, Duncan says, are mostly anything but energy-related. "These are very local initiatives," she says. "They're intentionally very broad. We didn't want them to be limiting in any way."
As a result, everything from science fairs to marching band award cases have received grants so far. "One of our favorites," Duncan says, "was a program where they bring trained dogs into the local library after school. Students who need literacy help read to these dogs; it's less stressful than reading aloud to classmates. We're animal lovers. We love that one."
The top award is $500. While that might seem like a small amount for a community grant program, Duncan says the aim is for Constellation to help smaller groups that, for instance, don't likely have a development director or large fundraising base. "These are intended to be local, where a little bit can go a long way," she says, "so $500 is a pretty meaningful amount for a neighborhood cleanup or science fair."
Here are just a few examples of the kinds of groups Constellation's corporate grant program has helped so far: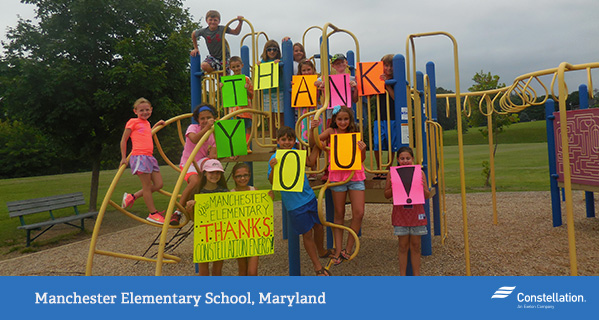 Manchester Elementary School, Maryland: The school used its Community Champions corporate grant to create a sensory garden behind the school playground. The garden will act as an outdoor learning center where students can hear wind chimes, smell fragrances of different flowers, feel different types of pathways and trees, see butterfly gardens and birdhouses, and enjoy sitting in the pergola seating area.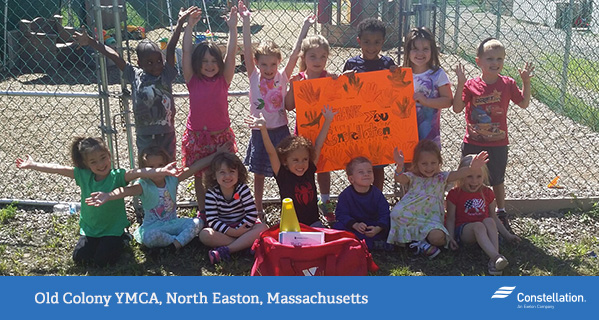 Old Colony YMCA, North Easton, Massachusetts: This YMCA used its $500 award to buy youth fitness equipment, nutrition models and a duffle bag to house it in. This enabled YMCA staff to create a Mobile Youth Fitness Experience to bring education, teamwork and fun to community events, health fairs and field days.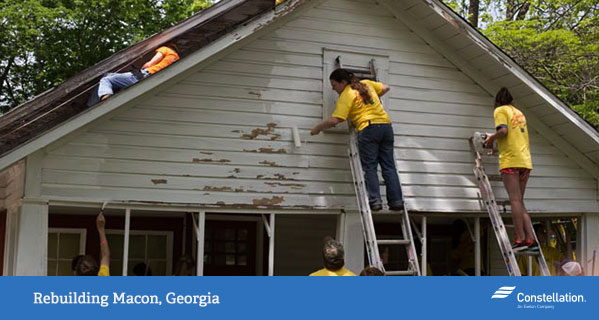 Rebuilding Macon, Georgia: Rebuilding Macon used its $500 grant for paint and supplies to rehabilitate four houses of low-income elderly and the disabled so they may live in warmth, safety and independence. Two hundred sixty students and twenty-five faculty members from across Georgia repaired and painted the homes.
These videos of some past Community Champion winners show other examples of the corporate grant program in action.
Duncan says Constellation's program is unique, even in an environment where corporations giving back is increasingly common. "I actually don't know of any other corporations doing something like this," she says. "We thought it would be different and unique. Every company makes charitable contributions, but I don't know of an application-based program like this where customers apply."
The next deadline for applying for a Community Champions award is May 15, 2016.