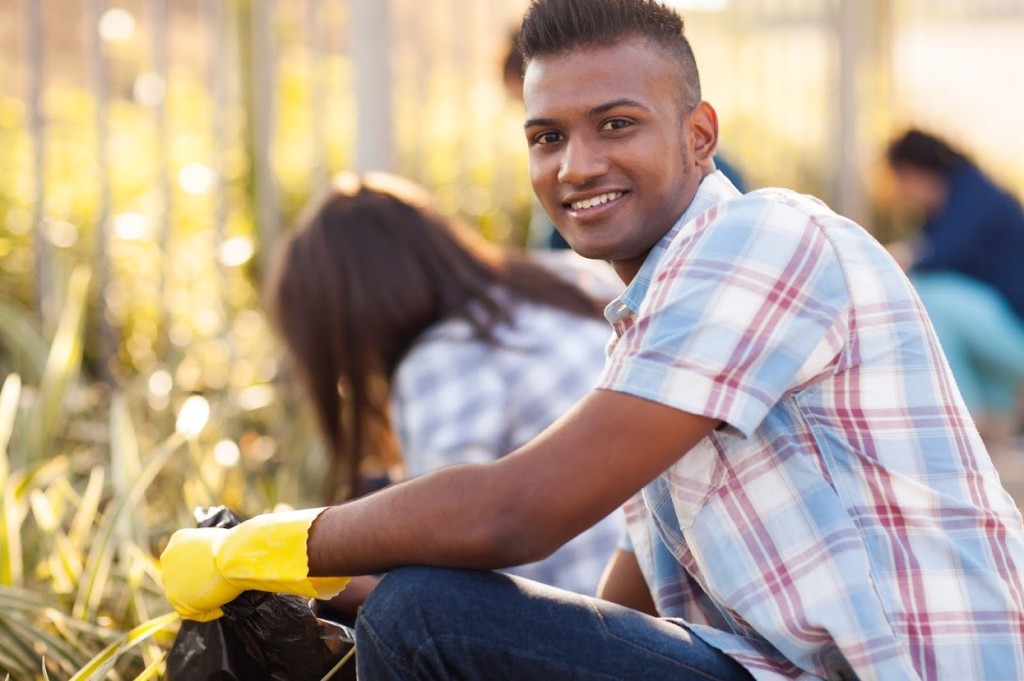 Now that school days have begun and kids are starting to settle into their new schedules, it's time to rack your brain for after-school activities your kids can participate in. Sports, youth groups, even part time jobs—anything that will keep them from spending their afternoons and weekends indoors and in front of tv screens.
One option that is often overlooked is volunteering. Now, it could be that we're looking for "typical" after school activities (the school play, sports, etc.) or maybe we're just not sure what kinds of opportunities are out there. Whatever the case, it's important to teach our kids to give back. To help get you started with finding just the right fit for your kids and teens, we've put together a few of our favorite volunteer ideas.
Hospitals
This is a great place to look for any teen that might be interested in pursuing medicine in the future. At many hospitals, teens as young as 14 can help out in many capacities. Task that may be assigned will vary by hospital and can include assisting nurses by stocking supplies, making pharmacy deliveries and transporting patients, and assisting patients by bringing them books or magazines, talking with them and reading to them. To find out what opportunities your local hospital has available, give them a call and ask to speak to their volunteer coordinator.
Animal Shelters and Veterinary Offices
So maybe your child or teen is an animal lover–maybe they even have an interest in becoming a vet one day. Two great places to check out for volunteer opportunities are animal shelters and veterinary offices. Some tasks that volunteers can expect include answering phones, other office related tasks, cleaning kennels, help with feeding and grooming, walking dogs, playing with cats, etc. It will of course depend of the need of the shelter or vet at the time and tasks will probably vary based on the volunteer's age. Many places require that a teen be 18 before being allowed to actually handle the animals but that would definitely give a younger teen something to look forward to if they choose to continue to volunteer over the years. To find out more, contact your local shelter or vet to see how you can help!
Libraries
This is a great opportunity for those of us that have a book worm. Libraries work with volunteers young and old and have a variety of opportunities. From helping visitors find books and restocking the shelves to assisting with children's programming and other library events –there's something for almost everyone. For information about opportunities at your local library, call or visit today and ask to speak to someone in volunteer services.
Nursing Homes or Retirement Communities
Volunteering at a nursing home or retirement community can be a great experience for teens. Typical "duties" range from doing things like office work and set up for events to playing games and doing art projects with residents. Often times volunteers are there to talk or simply lend an ear. Other opportunities could include: playing board games, cards, and puzzles; delivering and reading mail; writing letters; reading books, magazines or newspapers; and the list goes on. If you think this sounds right for your child or teen, call or visit you local retirement community or nursing home and ask what opportunities the activities director or volunteer coordinator has available.
A Local Charity Race or Walk
If you are more interested in one-day opportunities for your kids and teens, a great place to spend a day giving back is at a charity race or walk. There are many 5ks, relays, fun runs/walks, and races that go towards supporting many worth-while causes so chances are that your child or teen will be able to find one that supports something they are passionate about. Once you find one that you think is a good fit, contact the chairperson for the event to find out how you can help. Tasks can include helping with registration, directing the participants on the course, handing out water to runners, selling concessions, set up and break down and more.
Giving back is such an important part of life and an important lesson to learn while growing up but sometimes finding just the right fit for our kids can be tricky. We want something that will provide valuable experiences for them while they're still having fun. We hope this list was helpful and invite you to add your own ideas to in the comments!