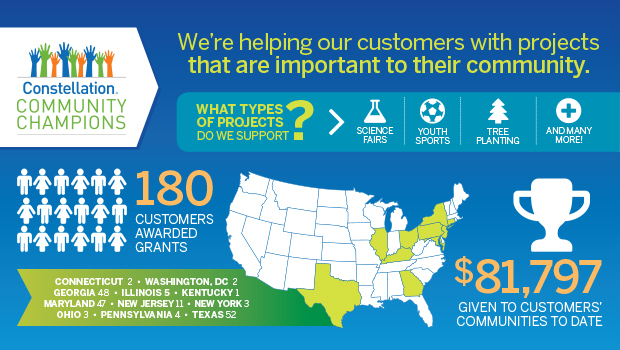 Did you know that as a Constellation customer, you can apply for small grants to help fund projects, causes and initiatives that are important to your community? That's right! Through our Community Champions program we award grants (up to $500) to groups and organizations working to better their communities with special consideration given to those focusing on education, the environment, or youth.
Since the beginning of the Community Champions program, Constellation has awarded over $80,000 to support 180 customers from all over the country. These grants have helped to fund projects including science fairs, youth sports, tree planting and more.
In Houston, Texas, Nottingham Elementary School used their Constellation Community Champions grant to enhance their outdoor classroom by building a mobile butterfly habitat for the students to observe the life cycle of butterflies. To see how the students and teachers are enjoying the improvements, click here!
In Baltimore, Maryland, the dance team from Loch Raven Technical Academy used their Constellation Community Champions grant to foster team and school spirit by purchasing the team uniforms so they could perform in their school colors. Click here to check out their story.
To get started on your application, decide on a project or cause that will benefit your community. When you're ready, you can click "Apply Now" on the Community Champions page of our website. For more details and conditions, click here.