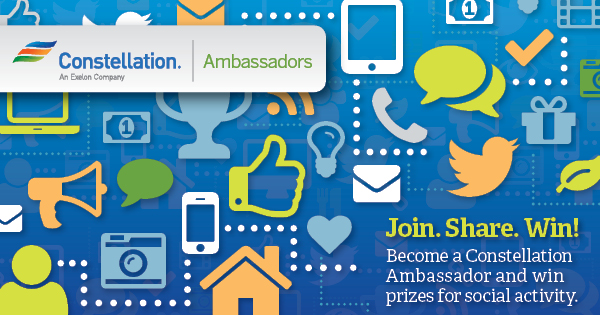 Join. Share. Win!
As a Constellation Ambassador, you will get access to essential home and energy tips to share with friends and family through your social networks. And, every time you share, the more chances you have to earn points and win prizes. Plus, it's simple and easy to share!
Once you have signed up as a Constellation Ambassador, you will receive an email when there is new content to share. Each email contains a status update and link to the content being shared with you. Just click the "Share Now" button, and the status update will automatically post to your selected social networks.
How it Works
Join > Visit Ambassadors.Constellation.com and sign up to be an Ambassador through the social networks you choose.
Share > Check your email for official content and share it in your social networks.
Win > Earn points for sharing and win prizes!
Ways to Earn
Signup = 500 points
Add a Network = 100 points
Recruit a Friend = 100 points
Links clicked = 10 points