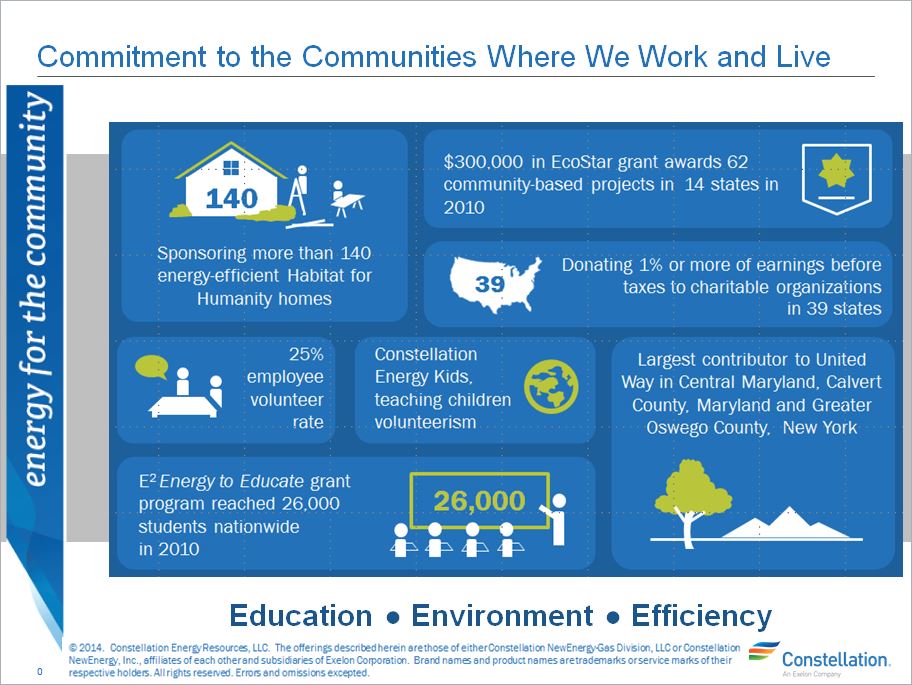 At Constellation, we are dedicated to supporting our loyal customers in the communities we serve. Our parent company, Exelon Corporation, has a longstanding tradition of community involvement. Together, the Exelon family works to enrich our communities not only with contributions of time and money, but also by increasing opportunities for youth through education and science.
In 2012, Exelon provided over $27 million in grants to non-profit organizations. Our employees pledged over $6.5 million for the annual Exelon-United Way campaign. We focus our corporate giving in four areas and give to the communities in which we live and serve and encourage our employees to support the organizations that they value.
Education
Programs that encourage students to stay in school and promote math and science. Exelon Corporation supports two Chicago Public School charter schools, the Rowe-Clark Math and Science Academy (High School) and the Rowe Elementary School providing children with access to the kind of education needed to compete and succeed in the global marketplace.
Environment
Programs that improve the quality of our environment and promote energy efficiency. Exelon partnered with Habitat for Humanity International to launch a pilot program to weatherize 70 low-income households, helping to reduce energy use and utility bills for homeowners. We also committed $1.5 million to the Field Museum in support of efforts to conserve the Peruvian rainforest.
Neighborhood Development
Partnerships with local civil organizations to improve the quality of life in our service areas. Our partnerships with both United Way of Metropolitan Chicago and of Southeastern Pennsylvania have created two signature programs that provide crucial out-of-school guidance for at-risk youths.