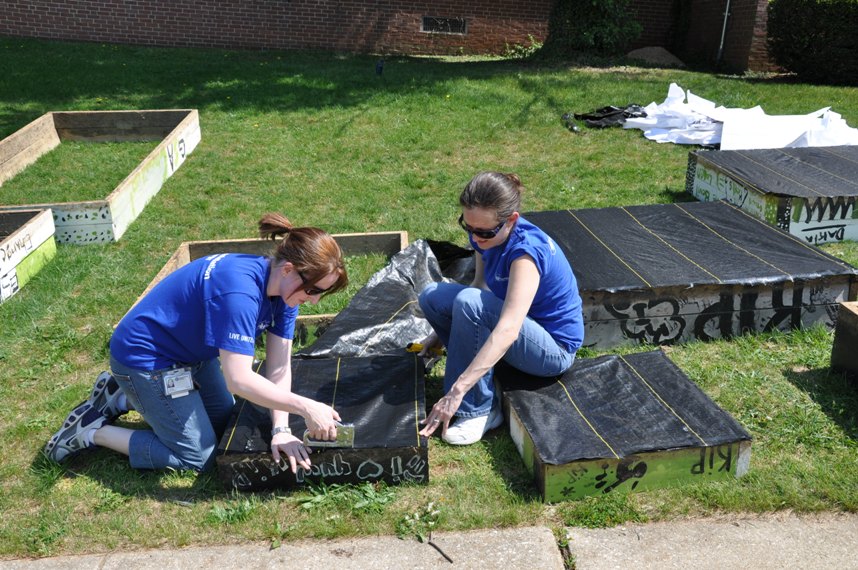 What better way to connect with communities during National Volunteer Week than to team up with organizations that are dedicated to making our world a better place! We volunteer to help support organizations all year long, but we're especially excited to post about one of many activities that our fellow coworkers all over the country are participating in throughout this week.
On Monday, a group of 12 volunteers spent a day at the Green Street Academy (a new public school in Baltimore that is focused on preparing scholars to enter the emerging green work force), assisting with a variety of projects, including:
— Setting up a tilapia farm: Volunteers helped prepare for the installation of an on-site tilapia farm by painting the walls and sprucing up the area. After the farm is established, the school plans to raise, care for and harvest the fish organically and sustainably so that they can sponsor an annual family fish fry for parents and community partners.
— Organizing old books in the library: Volunteers helped sort and make an inventory of old text books.
— 6th Grade field trip: Volunteers chaperoned approximately 100 sixth grade students during an in-house field trip with Outward Bound, where students focused on team building skills.
These activities are part of our commitment to helping the Green Street Academy to help their students become civic-minded, employed citizens with the knowledge, skills, passion and critical thinking necessary to make our world a greener, kinder, smarter and more ecologically-sound place. Our relationship with the school has included working recycling stations with Green Street Academy students and families at the 2011 Grand Prix in Baltimore and prepping the school's site for the tilapia farm on this past Martin Luther King, Jr. Day.
Also, through our E2 Energy to Educate grant, Green Street students can build and race their own electric vehicles, which Wide Angle Youth Media will follow all the way to the finish line.